Latest Version: 1.0 Build 3789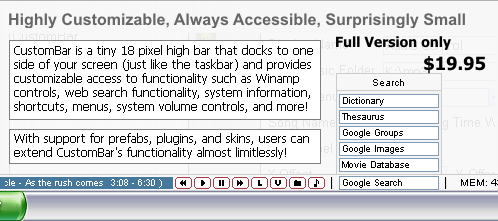 The CustomBar Forums have been relaunched! Please visit to get updated information on CustomBar development and chat with other users. Visit the Forums


Due to demand, renewed development efforts and the niche nature of this product, the price will be increasing with the 1.1 release, which is in the final stages of development.

Take advantage of this fair warning and download a CustomBar lifetime use license for only $19.95. By ordering today you will ensure that you are getting the lowest price possible on CustomBar. Not only on that, but you will also receive guaranteed lifetime updates.

Take advantage of this last chance opportunity risk-free. If you are not satisfied with CustomBar you can request a full unconditional refund within 30 days. No need to fax destruction agreement forms or pay handling fees. There simply aren't any strings attached!

I want to purchase this dream geek utility risk-free today for only $19.95.